There's been quite a bit of change in the last month, and forthcoming are some random musings from my experiences.
As the title of today's post suggests, I think I've figured out where the meme-tastic cat lady comes from. At least of the New York City-type is concerned. Also, I'm not a cat person to begin with, so maybe this should be called the dog-foster lady?
I went from living in a pseudo-3 bedroom apartment with two foreigner graduate students at The New School in a great Bushwick location, to a decent-sized student fit for a couple and small pooch in a quieter, yet still vibrant area in Ditmas Park. (My only gripe about the apartment in Bushwick is the landlord was staunchly against pets. Boo.)
Until now, the only other time I've actually lived "alone" is when I lived in garage-turned-studio in North Beach, Maryland. Despite the funk of a smell coming from the bay during the stilted summer days, and not having the luxury of "urban" living, it was a great location. I lived down the boardwalk from my little job at a pastry/coffee joint. The people, for the most part, were great. The ocean breeze is unbeatable.
Okay. Fast-forward a few years of roommates and so-so and awesome apartments in College Park and Silver Spring to now, in Ditmas Park…
How easily, I can see, a lonely soul takes to wanting to gather and nurture some strays.
Except, around here, I haven't really seen any strays. Though the thought of stealing my neighbors' dogs constantly runs through my head.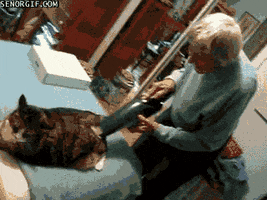 I won't lie. Having my own space, even if it is a studio, is pretty nice. The downside is the slight loneliness that begins to creep at you, and this isn't a loneliness from not having someone to talk to regularly at the apartment. I didn't really engage much with my roommates in Bushwick, but just knowing that there were other people in the box that we called "home" was enough in some ways to hold back that weird feeling. (Though, I'd still much prefer to have a dog around. And my significant other.)
And this is how I can see one becoming a cat lady. Or dog lady. Or some lady person living in a studio who just wants another living thing or two or three in the space with her.